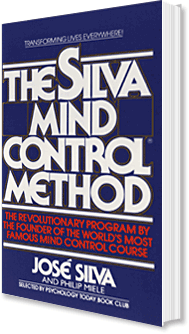 The Silva Mind Control Method
Selling Price
MYR 48
| | |
| --- | --- |
| Download the first chapter FREE | |
Overview
Building self discipline is a great way to take control of your mind and your thoughts and be the person you were meant to be. You have control over your mind! Realize this, and you will become a better you.
The Silva Mind Control Method by Jose Silva and Philip Miele has been A Simon and Schuster best seller since 1977 and is a classic do-it-yourself text for everyone who wants to develop more of the mind and human potential.
Disciplining your mind is a great way to start changing your life and achieving success. Just like a muscle, your brain needs exercise. Far too many people get stuck in a rut of old habits and never really exercise their mind because they never realized that their mind and undeveloped potential is the gateway to unparalleled success in life.
This book can benefit you in a number of ways, depending on what you want to change about yourself. Expect to see improvements in your life skills and abilities at a personal level and at work, exercise better judgment, increased mental speed and stronger will power, better self-expression, the ability to study effectively and recall what you have learned, more creative insights, and confidence in your capacity to achieve your personal goals in life.
Product Details
| | |
| --- | --- |
| ISBN | 978-0-671-73989-8 |
| Publisher | Pocket Books |
| Format | Paperback |
| Author | Jose Silva & Philip Miele |
| Dimensions | 6.8 (h) x 4.2 (w) x 0.7 (d) inches |
| Pages | 239 |
| Weight | 120 grammes |
Contents
By Philip Miele
Chapter 1 : Using more of your mind in special ways
Chapter 2 : Meet Jose
By Jose Silva
Chapter 3 : How to meditate
Chapter 4 : Dynamic meditation
Chapter 5 : Improving memory
Chapter 6 : Speed learning
Chapter 7 : Creative sleep
Chapter 8 : Your words have power
Chapter 9 : The power of imagination
Chapter 10 : Using your mind to improve your health
Chapter 11 : An intimate exercise for lovers
Chapter 12 : You can practice ESP
Chapter 13 : Form your own practice group
Chapter 14 : How to help others with mind control
Chapter 15 : Some speculations
Chapter 16 : A checklist
By Philip Miele
Chapter 17 : A psychiatrist works with mind control
Chapter 18 : Your self esteem will soar
Chapter 19 : Mind control in the business world
Chapter 20 : Where do we go from here ?